BACK


Don't Know How To Make A Web Page?
KattWmn.com offers professional web site design for business
and personal web sites. Visit KattWmn.com for details.


If you use these graphics, it would be appreciated if you would display one of the following buttons with a link back to KattWmn.com: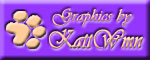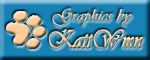 And if you drop me an email, I'd be happy to link your site to AnimalPages.com!
Buttons:











Bars:






Bullets:








Copyright 2007 KattWmn.com & Animalpages.com